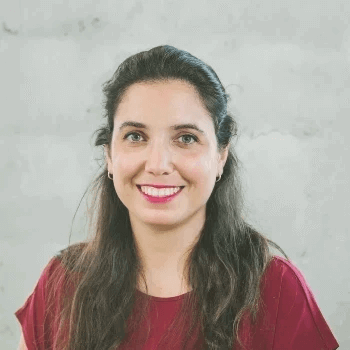 In this interview, Hadas Rahamim, Head of Customer Success at Exceed.ai, talks about the significance of understanding customers at the deepest and personal level.
We are in the people business, not the product business anymore. If you want the customer to hear and see you as a valuable partner, take the time to get to know them more profoundly and personally.
---
Background and Career
Rahamim has worked for several years as a Project Manager at Teva Pharmaceuticals. She notes, "I enjoyed the interactions I had with my clients as part of the global consulting team." Also, the idea of working with customers in solving any issues or concerns to achieving mutual success has been a great source of motivation.
"I want to be held accountable for the value I'm providing while at the same time, working holistically in providing great solutions to my customers."
In my current role, I have the opportunity to act as a bridge and connect product capability against customer needs and challenges. I also serve as the voice of the customers inside the organization. It provides insights to the organization on what we should be doing as the next steps for the customers and the main things we should focus on to exceed customers' expectations and meet their (business) goals.
"At Exceed.ai, we help sales and marketing organizations to scale their conversations. We reach out to prospects and customers alike to nurture, qualify, and book meetings using an email & chat AI bot. With this technology platform, we're able to schedule meetings on a salesperson's calendar, which requires no single effort on their end."
With this great tool, Rahamim points out that most people have different notions about AI. She continues, "it is sometimes a challenge to explain what AI is, how it works, the implications, and the great things it can achieve to scale up the conversations."
Why Exceed.ai adopted Customer Success? What's the motivation behind it?
As the SaaS industry emerges, the growing need for CS has been evident and apparent. Since every SaaS business is a recurring revenue model, it becomes more critical to have someone responsible for ensuring their customers' success once the sales have been completed.
Remember, "when the customer signs up to your product or platform, that doesn't mean they're going to stay for a year or next quarter especially if they fail to see or are unable to obtain the value on the platform they have invested in." Hence, we need someone who will continue the strong relationship with the customers.
"If you want to ensure that your customers are going to leave or stay (with your organization), (CS) must become the repository of all the information that the sales or marketing team can leverage for and from."
Citing the above circumstances, it is a straightforward answer that CS is needed in today's digital and competitive business landscape. The goal of CS has expanded not just from product utilization but also the (business) growth.
"We have a few customers who paused using our service. Once they started using our AI platform, they could no longer handle their current pace and (business) momentum. It is the success we want our partners and customers to achieve and experience.
Although we don't want them to stop using our service yet, our solution's impact (to their bottom line) has been widely recognized. It is a classic example of business growth and what a successful partnership looks like to us."
Hence, "building a profitable relationship comes from working together and achieving the same goals while creating a successful roadmap based on how our tools can deliver and meet their (business) goals in a less significant time period."
Cultivating Partnership and Meeting Business Goals
"We are in the people business, not the product business anymore." In other words, having a clear understanding of what they [customers] need from you, your organization, and how they can achieve their (business) goal is what creates stickiness or a loyal customer.
"Once you understand the people you serve, their motivation, and what drives them, you can help them succeed. Of course, once they succeed, you succeed as well. It only shows that you have been instrumental in achieving their desired success. You shouldn't aim to please them but to delight them. Making them see how the product (along with its service as a whole) is something you can't do without."
An organization seeking to strengthen customer relationships and solidify long term retention might ask: If we had to do it again, how would you like us to handle that situation differently? How's your experience working with us. How did that make you feel? What have you learned?
These questions encourage customers to enhance their stories or feedback in greater detail. It only shows that today's economy's key to success is understanding your customers at the most profound level.